Smart Manufacturing Expo
EXHIBITION
Reserve your own stand or exhibit your products and services within your region's pavilion stand to generate business opportunities with our match-making solution. You will be able to meet with industrial manufacturers and government representatives in order to finalise your projects to create partnerships or set up operations in Japan.
PLAN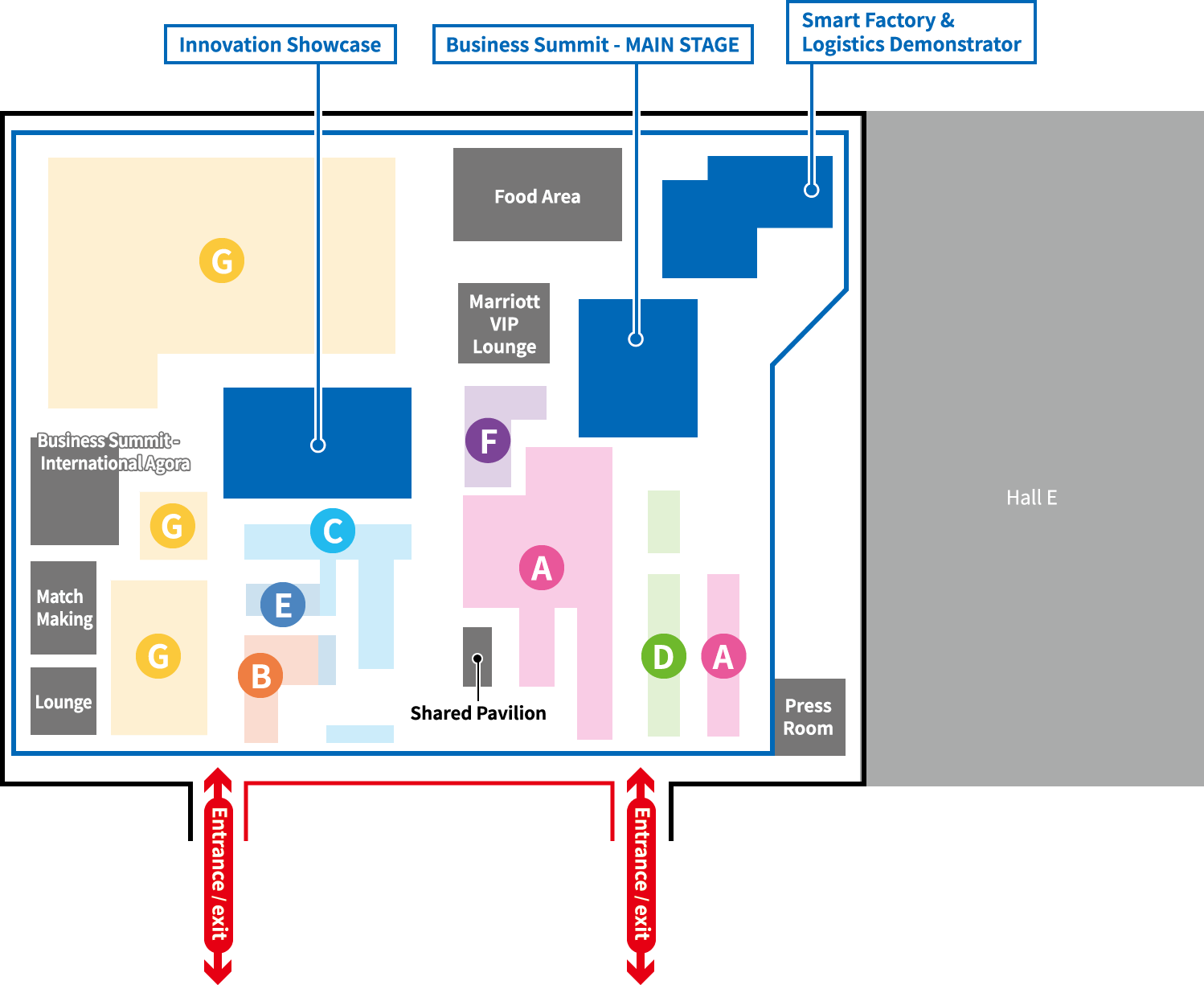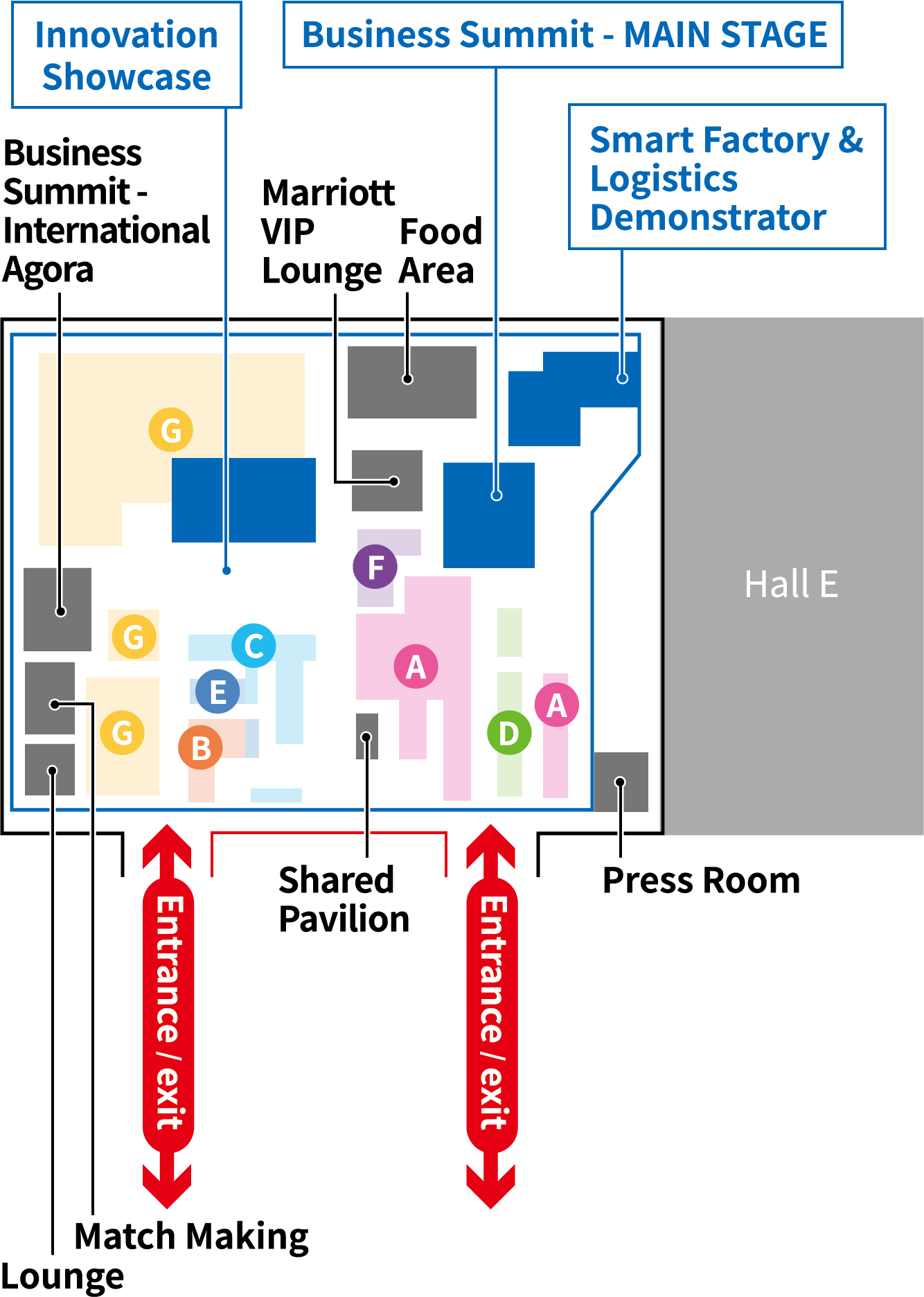 ※the plan is subject to change

AUTOMATION & MECHATRONICS
An area displaying a comprehensive spectrum of smart and digital automation - from drive and fluid technology to robotics, sensor and control technology, and automation solutions. exhibitors will show visitors how to increase the efficiency of their processes.
Mechatronics components and systems (Actuators, automation system, bus management systems, etc.)
Motors, variable speed (Various chains, variable speed motor / variable electric motor, etc.)
Motion control (Driver, motor drive unit, stepping motor, etc.)
Linear Technologies (Linear motion systems, guides, components, actuators)
Sensors (Weight / position / speed sensors, etc.)
Drives (Variable speed drive equipments, system, etc.)
Robotics (Robotic technology general as design, manufacturing, control, etc.)

ADVANCED TECHNOLOGIES & MATERIALS
Exhibitors will show visitors how advanced technologies and materials can help them to increase their competitiveness: The integration and usage of innovation and new processes will help them to be more efficient.
Additive manufacturing and 3D printing (Various additive manufacturing technology and 3D printer, etc.)
Machining and material removal (Hybrid machine tools and technology of addition and removal of material, machine-tools etc.)
Electronics (Semiconductors, electronic parts, built-in programs, networks, etc.)
Microtechnology (MEMS, Micromechatronics, Micromachines, Microsystems)
Microelectronics (AD converter, AF control circuit, coreless current sensor,), microtechnics etc.)
Instrumentation, analysis, measurement, control, vision (Measurement, control, analysis and its equipments, etc.)
Metal (Common metals, precious metals / Zinc and zinc alloys)
Plastics & Rubber (Various plastics, rubbers, elastomers, bio materials, etc.)
Glass & Ceramics
Composites & Innovative materials (Various composites / new materials and its recovery and its reuse, etc.)

DIGITAL ECOSYSTEMS
The new industrial revolution is based on digitalization, data management, cloud computing, 5G, virtual or augmented reality, etc. This area will be the perfect showcase for industry 4.0 digital solutions.
CAO, CFAO, PLM, MES, ERP (2D CAD and CAE, MES software, CMMS)
Design, simulation
Calculation, modelization and equipments
Machine learning (Machine learning, M2M, etc.)
IA (Information architecture and technology/design)
IoT
AIoT (IoT and Ai in general and its product services)
Blockchain
Data management, supervision
Virtual reality and equipments
Augmented reality and equipments
Metaverse
Cloud: infrastructures and equipments (Technology / services / equipment, etc.)
5G industrial: infrastructures and equipments
Cybersecurity (Equipment and services, etc.)
Predictive maintenance (Image recognition equipment and services, etc.)
Digital transformation
IT Consulting
Services

NEW ENERGIES
In order to operate climate-neutral facilities, industry needs energy-saving and low-emission solutions. Exhibitors will present in this area a wide range of products and technologies from renewable energies production and supply to energy efficiency.
Hydrogen (Hydrogen production / storage / transportation / power generation technology, hydrogen / fuel cells, FCV/FC bus, etc.)
Wind power
Solar power
Renewable energies
Batteries (Various cells and batteries and its recovery and reuse)

SUSTAINABLE MANUFACTURING
Reduce the impact of industrial processes on the environment and global climate change is a core challenge. Governments around the world are implementing robust policies and introducing initiatives to line up with the 2050 net-zero commitments. This area will show innovative exhibitors dealing with : decarbonization, circular economy, sustainable processes & materials, air, water & waste management, etc.
Ecodesign (Product / Production Technology / Design)
Packaging (Packaging technology and packaging materials, etc.)
Low-carbon production (net zero means of production and production processes)
Circular economy (Its mechanism / services)
Waste management - Recycling and valorization (Waste management, high pression washing machines, waste oil recovery and reuse, hydrocarbon in soils, incinerators for solid and special waste, waste oil collection tanks, etc.)
Air and gas treatment (Air filtration system, ventilation equipment, exhaust gas treatment, absorption products for exhaust gas purifiers, ozonisation photocatalysis)
Water treatment (Tanks, leakage detectors, distribution or treatment of water, system for reuse, water treatment equipment, prevention of water pollution, chemical product for water treatment, etc.)

SMART MOBILITIES
Innovation and technology are the key enabling factors for developing and promoting a new model of mobility : smarter, more integrated, more efficient and sustainable.
E-Mobility (General products and services such as electric vehicles, electric assist bicycles, electric motorcycles, buses, trucks, eVTOL (manned unmanned), self-driving EV, etc.)
Low-carbon mobility (Electric vehicles, hybrid vehicles, aerospaces, automotion, drones, eVOTL, etc.)
Logistics (driverless transport systems, logistics services, autonomous logistics in production, etc)
Shipping (DMS, cost-effective and responsible delivery solutions)
Transportation (Land / air / sea transportation in general, movement of intangible assets such as knowledge and intellectual property)

Countries & Regions
European and Japanese countries and regions will be exhibited. Expected exhibitors: Aichi Prefecture, Business France